Picture Jasper Ring with Wide Star Stamped Band B - Size 7.75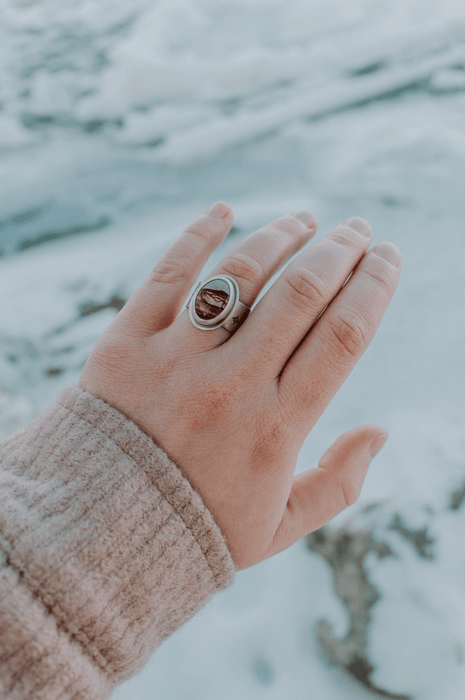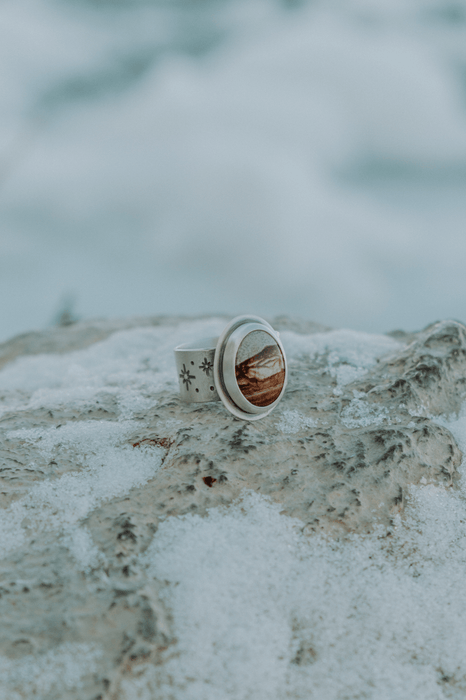 This ring was handcrafted from an oval picture jasper stone and features a wide star-stamped ring band!
Ring size 7.75.
Ring band is 3/8" wide. 
Ring cannot be resized.
This handmade ring is ready to ship in 1-2 days! I do my best to ship each order as soon as possible, so please leave a note at checkout if you need your order by a certain date. I am happy to try to accommodate to the best of my ability! 
By purchasing any piece from this website you are acknowledging that you have read and understood Third Hand's shop policies.
Why invest in sterling silver jewelry?
Sterling silver jewelry is worth the investment. It is comprised of 92.5% pure silver, and 7.5% copper, which adds strength to the precious metal. Handmade sterling silver jewelry will last much longer than mass-produced/storebought jewelry, which is typically made of a variety of cheap base metals or coated plastic. Although jewelry made from base metals will look pretty and shiny in the store, they wear down quickly, are difficult to polish, and are more likely to cause skin irritation. Alternatively, sterling silver is very easy to maintain and keep looking beautiful for years. Sterling silver is less likely to cause allergic reactions or irritation, so it is a great option for sensitive skin-especially around the ears and neck. An extra bonus: rings made from sterling silver won't turn your fingers green! Handmade sterling silver jewelry can be more expensive, but it will also last much longer and be much more meaningful compared to the mass-produced alternative. Learn how to maintain your sterling silver jewelry's beautiful finish here, and enjoy!